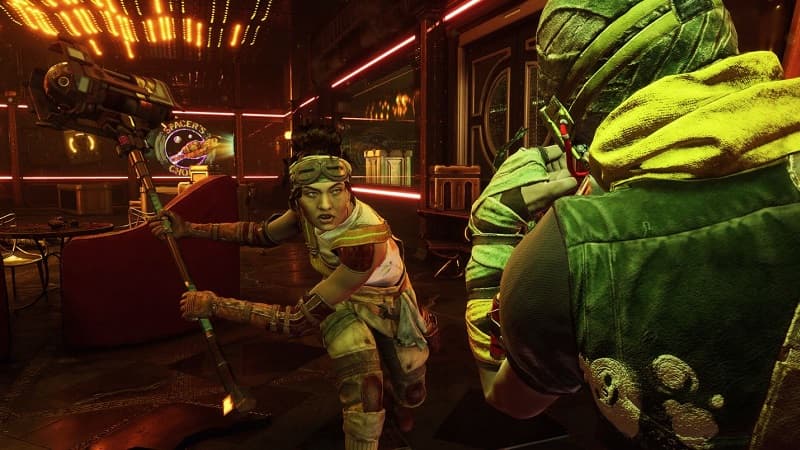 The Outer Worlds: Spacer's Choice Edition PS5 Review. When we reviewed The Outer Worlds in its original form on PS4 back in 2019, we came extremely impressed with it to say the least, describing it as "one of the best first-person RPGs". In the intervening years, little has been done to dull that merit of that assessment and certainly the bundling of additional expansion content and visual improvements that this definitive offering of The Outer Worlds brings to the table only adds further shine to its prospects.
Sadly however, in its leap to PS5 this roundly excellent RPG has taken something of an unexpected hit thanks to performance issues that really shouldn't be there. Put simply, the severity of these performance issues cruelly undercuts both the excellent core of The Outer Worlds as well as the other improvements that have been made in this otherwise generous package.
The Outer Worlds: Spacer's Choice Edition PS5 Review
---
A Definitive Sci-Fi RPG Offering Let Down By Performance Issues
First things first – what you're getting with The Outer Worlds: Spacer's Choice edition on PS5 is the base game of The Outer Worlds bundled together with the Peril on Gorgon and Murder on Eridanos expansions. In addition to that roundly generous content offering, The Outer Worlds: Spacer's Choice Edition also pushes a number of technical improvements to the fore on PS5 including two visual presets (a fidelity mode that runs at 4K resolution, 30 frames per second and a performance mode that renders at a dynamic res and 60 frames per second), reworked lighting and particle effects, improved animations and a much higher level of detail density in the environment. Quite simply, The Outer Worlds: Spacer's Choice on PS5 looks a whole heap better than it does on PS4.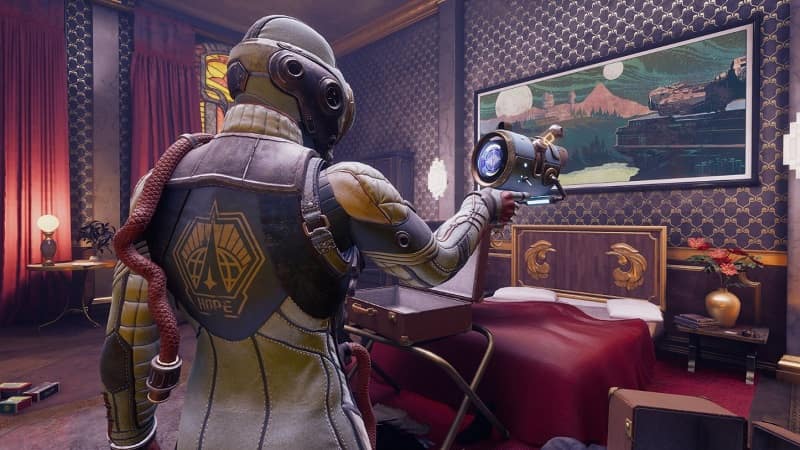 Away from the visual side of things, other more subtle improvements have also been made to The Outer Worlds under the hood as well. Enemy AI has been improved with many more encounters resulting in enemies actually attempting to flank and take cover on the regular, rather than just blindly charging towards you with their guns blazing. Another change that has implemented is the raising of the overall level cap to 99. This is significant as it provides players with ample creative latitude to explore a wide range of new skills, abilities and stat increases and allows them to fashion a super powerful character in the process.
Further Reading – New PS5, PS4 Games Release Dates In 2023 And Beyond – All Upcoming PS5, PS4, PSVR2 Games
Indeed, the essence of The Outer Worlds remains undimmed in years since its release on PS4. Obsidian Entertainment's stellar sci-fi RPG tells a solar system spanning story of lost colonist who, after being locked in cryo-sleep for 70 odd years, is awoken to discover that not only have their family and friends remained in stasis, but a gargantuan conspiracy has been unearthed that points to corporate involvement in the future destruction of the colony. With its sharply written characters and consumerist satire, The Outer Worlds remains as relentlessly engaging in 2023 as it did in 2019.
This also extends to the level of player agency and non-linear storytelling that The Outer World prescribes. Like any Obsidian title worth its salt, The Outer Worlds prides itself on letting players define everything about their adventure, from the look, background and abilities of their protagonist through to the litany of different choices you'll make in the various quests, side-quests and companion specific missions you'll encounter along the way. In every way that counts The Outer Worlds remains a gripping RPG that everybody should play and for a deeper dive on its mechanics and narrative, I'd point you towards our original PS4 review.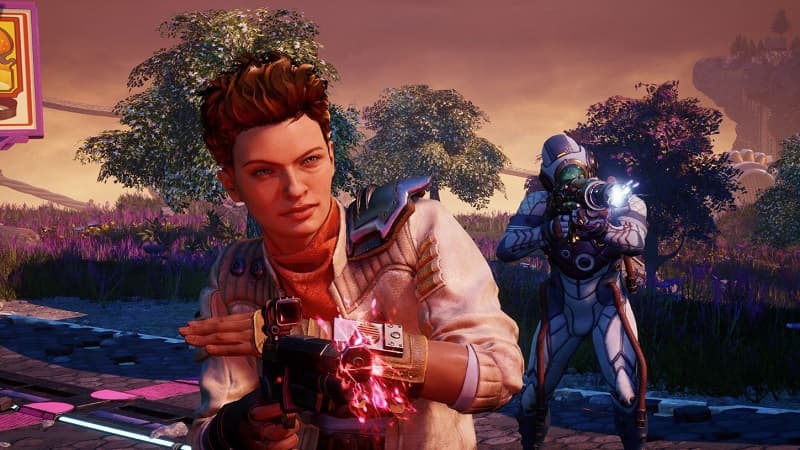 So by all accounts, The Outer Worlds: Spacer's Choice Edition should be the definitive version of Obsidian's labour of love and in so many ways it is, but there is one fairly horrendous technical oversight that hamstrings this otherwise stellar re-release of a sci-fi RPG great. As I have mentioned already, The Outer Worlds: Spacer's Choice Edition comes with two visual modes, a cinematic mode that provides a native 4K resolution presentation at 30 frames per second and a second mode that provides a dynamic 4K resolution at 60 frames per second. The problem, however, is that neither mode is where it needs to be from a performance perspective and the second mode, which is certainly one of the selling points for this edition of the game, needs a whole heap of work.
Further Reading – Upcoming PS5 Games – The Most Anticipated PS5 Games Coming Soon In 2023
The cinematic mode (which thankfully doesn't lock at 24 frames per second), instead aims 30 frames per second at 4K resolution and more or less hits that target; though drops do occur from time to time. The bigger problem is the performance mode. Aiming to render a dynamic 4K resolution at 60 frames per second, The Outer Worlds: Spacer's Choice Edition only seems to hit this framerate target when you're indoors or in smaller areas that don't really have much in the way of LOD (Level of Detail) coming in from the horizon. As soon as you go into a big open space however – the initial descent towards the ship after the main tutorial immediately flags this – the framerate takes a terrifying plummet and while it's still playable, it's really quite far away from where it should be.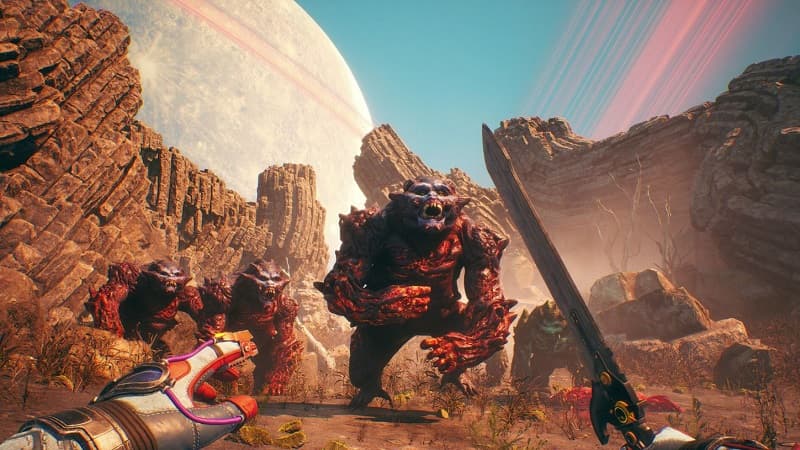 Another technical issue is the stuttering. When the framerate is constantly yoyoing between 60 frames per second and somewhere just above the 30 mark (I kid you not) in performance mode, there is a stutter that kicks in every so often which indicates poor frame pacing and serves to undercut what is arguably a fantastic RPG even further still. The flipside of course is that all of these performance issues can be addressed by a future update, but as that update is not here yet I can only speak to what players will see on day one – and have had no communications to suggest that a day one patch that fixes these performance issues in the offing.
Though savagely undercut by performance issues, The Outer Worlds: Spacer's Choice still remains a stellar RPG and a muscular content offering despite its technical problems. Nonetheless, the unstable framerate coupled with frame pacing issues results in the tarnishing of the definitive version of The Outer Worlds that really should have been so much polished than it is here.
The Outer Worlds: Spacer's Choice Edition is out now on PS5.
Review code kindly provided by PR.