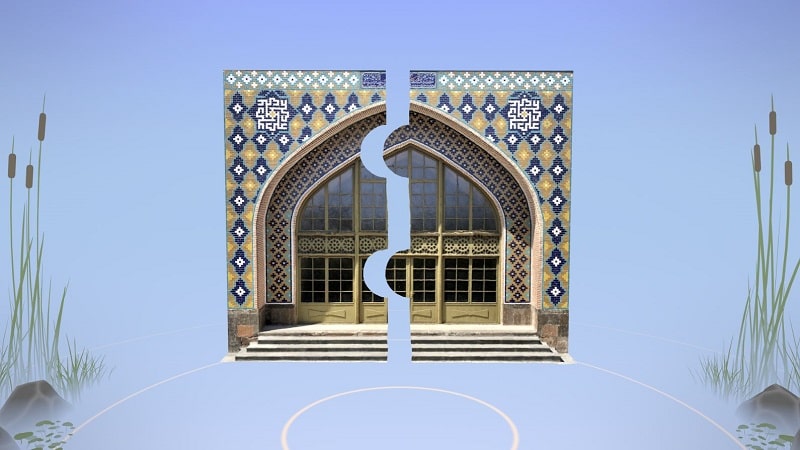 Puzzling Places PSVR2 Review. With the likes of Kayak VR: Mirage and Garden of the Sea, it certainly seems like that the PSVR2 is already building up a decent line of relaxing games that are distinctly removed from the more frenetic fare available for the platform. Already released on the previous generation of PSVR, Puzzling Places is one such additional offering that seeks to relax and tease your brain in equal measure and boy oh boy does it succeed in doing both.
Puzzling Places PSVR2 Review
---
A Delightfully Relaxing Zen Brain Teaser That Completely Satisfies
The base concept of Puzzling Places couldn't be simpler. Thrust into a VR space you are presented with jigsaw-like pieces that belong to 3D diorama and to complete each creation, you must simply slot the pieces together while using a series of reference photos to point you in the right direction – and that's pretty much it. With each of Puzzling Places 24 distinct visual conundrums representing a photogrammetry rendered model of real-life cultural locations in France, Japan, Thailand, Armenia, Austria, the US, and Sweden, each puzzle has a feeling of history and heft to it that you necessarily might not get with other diorama style brain teasers.
Using the PSVR2's Sense controllers for each puzzle, you simply pick up the piece you wish to connect in one hand, the corresponding piece in the other, and then simply join them together before moving onto the next and eventually completing the puzzle. The great thing about Puzzling Places is that it works entirely on a one-to-one basis how you might create a 3D puzzle in real-life, since all of the gestures you would normally do such as turning the piece in your hand and leaning in to make sure that the join is perfect match on both pieces can be done here and this sort of natural design absolutely opens up Puzzling Players to not just non-VR gamers, but folks who have never played a game before in their life (something that more VR games in general should ideally strive for).
Further Reading – New PS5, PS4 Games Release Dates In 2023 And Beyond – All Upcoming PS5, PS4, PSVR2 Games
Much like the solving of real-life 3D puzzles, it is entirely possible for time to get away from you. After deciding to settle down after a busy day for 'just' one puzzle, I ended up doing four and lost nearly three hours without even realising it. Where Puzzling Places really excels however, is in how it uses sound to absolutely get its hooks into you.
Not only do you get an extremely satisfying 'click' whenever you successfully join two pieces together – so satisfying in fact that all you want to do is complete the puzzle just to keep hearing that sound – but when each puzzle has been entirely completed, your ears are graced with sounds that have a direct connection to that diorama. So completing a monastery for instance, has a choir being singing from inside after the fact, while finishing off a golf course has the sound of water sprinklers turning on. It might seem like a quaint thing on the face of it, but the addition of these sounds really helps to not only immerse you in the culture of whatever it is you're building, but also provide your brain with one more sensory hook to incentivise you to crack on and finish your next creation.
Though Puzzling Places has a blissfully straightforward premise at its heart, there's ample scope for mastery. Each puzzle is essentially graded in difficulty in terms of the number of pieces needed to complete it, ranging from 25, 50, 100, 200, and 400 piece puzzles that runs the entire gamut of rookie puzzle solvers and veterans alike. As a special bonus for PSVR2 owners, a unique 1,000 piece puzzle to this version of the game presents the ultimate challenge and can take hours and hours to complete. Already generously stuffed with content for its budget price point of $19.99\£19.99 respectively, Puzzling Places continues to enjoy monthly new content packs containing new puzzles for eager puzzlers to solve too.
Further Reading – Upcoming PS5 Games – The Most Anticipated PS5 Games Coming Soon In 2023
Further challenge and incentive to replay Puzzling Places numerous conundrums is also provided by the use of various filters and mods that can affect each puzzle and often nab you a trophy into the bargain. From removing the reference photos to randomising the default puzzle piece placements when you first start and 'Puzzle Noire' which makes the puzzle black & white, there's no shortage of ways for stalwart puzzle solvers to challenge themselves.
Don't let its humble concept fool you either as Puzzling Places also makes clever use of the PSVR2's technical capabilities too. PSVR2's neat eye-tracking technology can be used to accurately select pieces at any distance, while the implementation of haptic feedback which triggers every time you click together two puzzle pieces only serves to underscore the moreish nature that each successful click commands. Meanwhile the substantial uptick in resolution coupled with the PSVR2's OLED lens makes each of Puzzling Places cultural dioramas look more vibrant and detailed than ever before.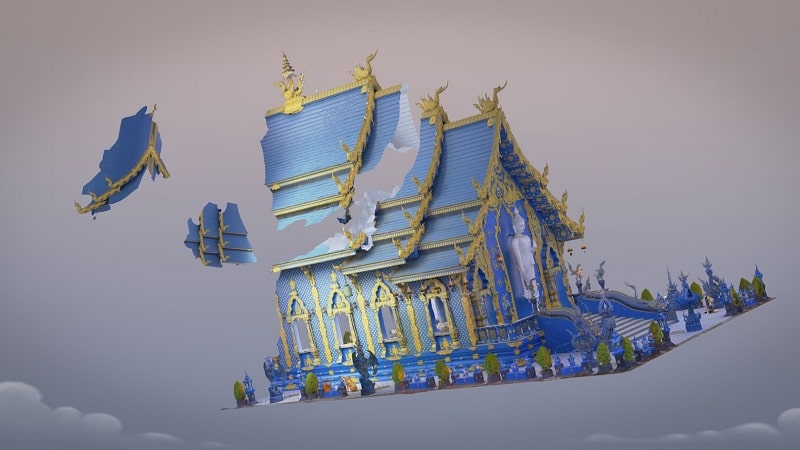 Though Horizon: Call of the Mountain boasts jaw-droppingly incredible spectacle and Pistol Whip is relentlessly furious with its rhythm based shooter beats, Puzzling Places fills a niche in my VR heart that I didn't know existed until I played it. There really is something to be said for settling down and patiently completing a 100 piece puzzle while Puzzling Players gentle cadence of sounds and music wash over you like a calming waterfall as you satisfyingly click each puzzle piece into place.
Puzzling Places unexpectedly evokes that early childhood memory of connecting my first two Lego pieces together, not least because it deftly leverages the haptic feedback capabilities of the PSVR2 to replicate that sensation from those halcyon days many years on. Wholesome, relaxing and never anything less than totally satisfying whenever I need a break from the world, Puzzling Places is puzzle solving zen distilled into its finest form on PSVR2 that everybody can play.
Puzzling Places is out now on PSVR2.
Review code kindly provided by PR.